The dark, gloomy days of Winter are finally behind us, and after lying on the sofa working their way through the bottomless tub of Quality Street over the Christmas break, eager home-hunters are hungry for a change.
With the sun finally making a comeback, flowers beginning to bloom and the leaves unfurling, there couldn't be a more salient time to put your home on the market. Everything looks better in the sun and your home is no exception.
So, what are the best ways to make your home stand out this spring? Below are some key things you should be considering when putting your home up for sale this season.
Deep Clean
There's a reason it's called 'spring cleaning'! Whilst a regular cleaning routine would include a quick sweep and mop of the floors, a scrub of the bathroom and a wipe down of the kitchen counters, a spring clean delves further into what 'lies beneath.' After all, having a glistening, squeaky-clean place is the key ingredient to providing homebuyers with as much value as possible!
The question is, just how deep should you dive into your spring clean? Well, that's entirely up to you, but let's focus on the essentials:
Clearing under the sink out may not be the most pleasant job but it is necessary if you want to make a good impression on homebuyers. It can be one of the dirtiest places in the house, particularly if your rubbish bin is under there. Bear in mind nobody wants to see half empty bottles of window cleaner and bleach alongside some old, mouldy sponges when viewing a home.
Every little detail counts when diving into a deep clean, so make sure to completely wipe down the frames and handles of patio doors. Check that you've scrubbed every windowpane inside and out and remove grimy water with a squeegee. Don't forget about switches and sockets too-they can be a magnet for dust and dirt.
If you're one of the lucky ones with a wipe-down induction hob or a self-cleaning oven, feel free to skip this part, but for the rest of you, we suggest getting ready to whip out the Marigolds, open the Oven Brite and flex those elbows! We're talking about the shelves as well as the door here-every inch of your oven should be spotless.
Grime can build up in hard-to-reach places, which is the very reason it builds up so much. Scrub away the deep grime behind the washing machine, refrigerator, and oven if you are considering leaving appliances as part of the sale.
It goes without saying but make sure to scrub down your toilet, sink, shower, bathtub…the entire bathroom needs to be glimmering! Clear out under the bathroom sink and drawers and throw away any half empty bottles of shampoo.
To tackle the shower doors, apply some warm distilled white vinegar and let it sit for about half an hour, reapplying if required. Sprinkle some baking soda on top, and gently scrub any soap scum or water spots away.
Clear your Carpets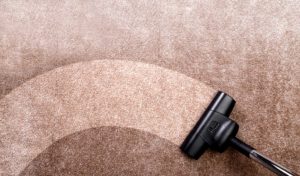 After a season of mucky boots, wet snow and sticky Christmas chocolates, your carpets are in dire need of some TLC. Carpet and upholstery cleaning should be one of your top priorities when tackling your spring-cleaning to-do list.
A good hoover is essential when getting down to the nitty gritty of your carpets. Don't neglect those skirtings either, as pet hair is often found in abundance there.
If you have carpet on your stairs, it may be easier to detach the head of the hoover and clean your stairs that way. Ensure you pay close attention to areas where dust can build up, such as the top of the steps.
After you've confronted the hoovering, up your cleaning game by spraying some foamy cleaner around any areas that may look worse off and grab that hard-bristled brush and get to work on it. Hoover over the area once it has dried.
If you have a viewing coming up soon and want your home smelling fresh and clean, you can't beat a good carpet freshener to help cover or remove odors embedded into carpet fibers. You should certainly bare this in mind if you have dogs or cats in your home.
Boost your Curb Appeal
When making the preparations to sell your home, don't ignore the value of improving your curb appeal. A beautiful front garden can add real value to your home. A buyer's first impression will be your home exterior, so what better time to take advantage of the blooming spring flowers and impress those hungry house hunters?
Make sure to declutter your front garden as wintertime may have blown in a few bits of unwanted debris. Any lingering leaf decay or disheveled vines should be raked and trimmed.
It goes without saying but you should certainly cut your grass and cut it again-who doesn't love the smell of a freshly mowed lawn? It can make a great impression for any buyer before they have even walked through the front door.
Really make your garden pop with a splash of springtime colours. Flats of annuals are reasonably low-priced so choose splashes of several colours to make your home stand out and convey that fresh, springtime feeling.
Fresh as a Flower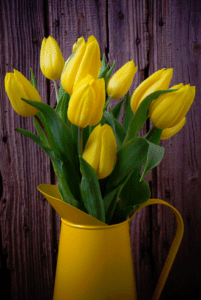 Speaking of flowers, don't limit your blossoming flora to just the outdoors. It is springtime after all, and after a dark winter it can be refreshing and optimistic to decorate your home with hints of the first sign of spring.
You can't go wrong with pops of yellow during the springtime. The brightest of the primary colours, yellow can play a psychological role when selling your home.
Yellow tulips and daffodils can stimulate feelings of positivity and satisfaction-two things you certainly want any potential buyer to feel when viewing your home. Why not place a vase of daffodils in your hallway to welcome buyers as they walk in, or a planter of tulips by the front door? Not only do they look pretty, but if they're freshly cut, they can really bring your space to life, as natural scents tend to be more appealing than artificial.
Touch of Brightness
Make use of the sunny spring colours for your furniture to really light up your room. Think about your towels, blankets, throws, pillows…colours such as yellow and white can really freshen up a gloomy room.
Yellow is a colour that conveys cheer, enthusiasm, warmth, joy, and energy-who wouldn't want this colour in their room during the springtime?
Keep it Fresh.
As unpredictable as it can be, there has certainly been a change in the weather lately. Sure, it's still cold, but the big yellow light in the sky (sorry, the Sun) is undoubtedly making a comeback.
Seize the opportunity of the crisp spring weather by opening your windows and letting the fresh air and sunlight into your home. It can allow your place to radiate light as well as feel vibrant and lively. It can also make your room feel bigger too, which is important when showing it off to potential buyers.
No natural light? No problem! Consider adding some floor or table lamps to areas that may be dimmer than others. You could also include some air fresheners (make sure they're subtle!) to help augment that springtime feeling.
A fresh start, a new beginning, and the feeling of rejuvenation; all strong feelings embodied by the springtime, and a powerful metaphor when selling your home. However, it is up to you to ensure your home is clean, fresh, and as appealing as possible to any new buyers. Stick to this guide when you decide to 'spring' into action and give us a call on 012845677 if you require any assistance!