Winter is one of the most magical times of year. From roaring fires, candlelit windows, the enticing aroma of ginger and cinnamon, the possibility of a white blanket of snow turning your home into a winter wonderland…it sounds like a dream, doesn't it?
If you're selling your home and winter is just around the corner, it's hard to think of a more appealing setting.
That is, of course, until reality kicks in and the sharp bite of frosty weather and darker evenings are upon us.
Preparing your home for a winter viewing and winning your viewers' hearts shouldn't be an intimidating task. There are so many potential buyers out there, eager to move into a new home just in time for 2021. We can't promise a magical snow scene straight out of a Christmas movie but with our simple and straightforward tips below, it's sure to amaze buyers and guarantee your viewing a success.
Garden
First impressions of your home have been established before viewers even walk through the door. Your front garden and driveway are on display and are always the first thing any potential buyer sees, so where better to start your winter makeover than here?
Gardens are crucial to get right during the winter months. It could be a make or break factor for many viewers, so it's important to set the stage and make it appealing and tidy from the get-go. Nobody wants to be trekking outside to see their potential new garden only to find themselves covered in muck and leaves.
You can perk up your garden by adding a holly wreath to your back door to really convey that festive feeling. If you have bird feeders, be sure to stock them with seed (especially those close to the window). Viewers won't be able to resist the charms of a friendly robin redbreast on a winter's afternoon.
Even if your garden doesn't have many trees, pesky windy weather can still cause large piles of leaves to be scattered around the grass and paving. Be sure to take the time to rake these up to keep your garden looking neat.
You want your garden to be shown to its full potential, and debris lying around could distract any potential buyers, or worse, put them off. It's essential to highlight the true selling points, like the large lawn for your kids and dog or the elegant patio ideal for entertaining guests. Your home may be viewed during the winter, but we want buyers to imagine themselves here in the summer too.
Although many of your own plants won't be growing during winter you can almost guarantee that weeds will have continued to grow in the flowerbeds and may reveal themselves in cracks in the pavement. It could be argued that they are a wholesome pop of summer green in an otherwise dull garden, but it also could illustrate a poorly maintained garden, which is something that could be off-putting to potential buyers.
Your garden furniture, once giving you the perfect opportunity to dine alfresco on a summer evening, now lies unused, riddled with cobwebs and most likely wet and mucky from the harsh winter weather. Far cry from the idealistic summer picture of warmth, hm?
With a little TLC and a good cleaning spray, your garden furniture could look just as appealing as it did a few months ago. Be sure to scrub down chairs, tables, and take in the parasol if you have one. It may be getting dark, but eagle-eyed viewers will be keeping an eye out for these things. It's essential to have every inch of your home and garden looking perfect, even if you think they can't see it.
Make sure you have sufficient outside lighting for late afternoon viewings. Once the clocks go back, the nights draw in before you even know it! It's important to give your viewers a clear view of the path ahead in your garden in your winter viewing.
Lighting
It goes without saying that with the limited visibility during the winter months and the nights creeping in quicker and earlier, it's crucial that there is decent lighting in all areas of your home. Good lighting can really make a difference and leave a lasting impression with eager viewers. It can help transform an unwelcoming, dark building into a bright and cosy home.
If the viewing is scheduled for after it gets dark, turn on the outside lights to create an inviting feeling. Viewers will be more than pleased to finally see what your home fully looks like in person without the early nights getting in the way. Pole lights, hanging lanterns and stylish outdoor LED lights can illuminate the exterior of your home. Whether it's in your porch, garden, or driveway, be sure to seize the opportunity to show off the facade of your home even after the sun goes down.
If viewings are scheduled during the morning or afternoon, be sure to open all the curtains and take advantage of the natural light. This ensures rooms are kept feeling spacious and even in touch with the outdoors.
Viewers will have less opportunity to see your home at its lightest and brightest as the nights rapidly draw in. Less daylight means less chance for your home to reflect light and shine. If you want your home to truly shine and add a little bit of magic, you can make up for the lack of daylight by giving reflective surfaces such as windows and mirrors a full clean and polish prior to any viewings take place.
You can also brighten dark rooms with few windows by placing spotlights on the floor behind furniture to help emphasize the best features of your home. In other areas, why not go for soft, lampshade mood lighting? Potential buyers can imagine themselves with their family in a relaxing and alluring atmosphere.
A warm welcome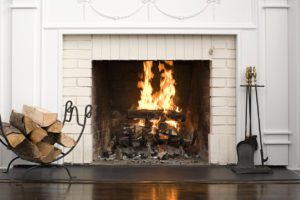 This may seem obvious, but it's imperative to give your viewers a warm welcome as soon as they set foot through the door.
Turn on the heating in every room before viewers begin to arrive (even that unused box room upstairs!). Invest in some furry throws to add to your bed and upholstery. Kill two birds with one stone by lighting an unscented candle- not only does it convey a cosy and inviting mood but gives off warmth too.
If you have a real fire, now's the time to light it up. Nothing gives a more homely feeling than the crackle of logs and shimmer of crimson coals in the hearth.
Heating is a key factor in a winter viewing so take steps to make every room a comfortable temperature.
A soft touch
Create an atmosphere of comfort and contentment by adding a dash of softness throughout your home.
Cover a hard floor with a fluffy rug or add some soft, velvet cushions to your living room décor to give a snug feel on a chilly winter's day. You could also have some cozy blankets draped over the back of a chair or your couch.
Place some super-soft towels in your kitchen and luxury ones in your bathroom. As well for the bathroom, supplant any threadbare bathmats with plush, deep-pile rugs. It really paints a warm, cosy, and inviting picture, doesn't it?
The perfect scent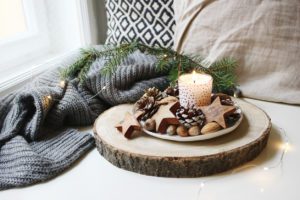 A beautifully decorated home and a warm roasting fire is sure to draw viewers in, but can it keep them there? Looks aren't everything, and it's important not to neglect the sense of smell when going through your checklist for winter viewings.
Many people are tempted to bring out the cafetiere and banneton to entice viewers with the smell of brewed coffee and freshly baked bread during the colder months, but this isn't the best tactic. It can be too distracting to potential buyers, and of course that's the last thing they want when making an important decision such as purchasing a house.
It's wise to keep things as neutral as possible. Viewers should like the smell of your home, but not be overcome by it. You can't go wrong with a clean, fresh scent, so make sure the carpets are hoovered and windows are left open before viewings, especially in kitchens and bathrooms to air them out to help get rid of any odd odours.
Scented candles, air fresheners and incense can be a hit or miss. The sweet smell of berries may entice you, but it could turn buyers off. A blank canvas allows buyers to visualize themselves living in your home, so stick to simple smells like lemon. Pine and cinnamon are also perfect for winter viewings. These scents are pleasurable, but not overwhelming. Intricate scents such as chocolate with vanilla can be distracting, so its best to keep it minimal and uncomplicated.
Don't overdecorate
If viewings are held closer to Christmas, it can be very tempting to go all out and put up your decorations. It may sound magical and appealing to you, but when staging your home, it's key to put yourself in the buyer's shoes. They'll see clutter and lack of a space, which is the last thing you want when opening your home for viewings.
Of course, we're not asking you to skip out on Christmas decorating altogether. Some stockings over the fireplace or a holly wreath may be all you need. And if the thought of no Christmas tree is too much to bear, invest in a small, tastefully decorated tree to add to your home. Decorate it with some presents underneath to conceal any shedding leaves and it will truly be the look of magic for any winter viewing.
Doormat
Lastly, we recommend acquiring a good doormat. Why? Well, often the cold, the muck, and the dirt from outside likes to come indoors with us via our shoes, and this is especially true during the winter months. A decent doormat gives buyers the chance to wipe down their shoes before entering your home.
Thinking of putting your property on the market this winter but it's leaving you cold? Why not ask the experts?
Here at Haines, our team are always happy to help you in any way we can, whether that's sharing our expert tips and advice, giving guidance on how you can help your home stand out this winter, or just any general queries.
Want to know more about staging your home? Check out our other blog post here. 
Call us for a chat on 012845677 or email us at info@haines.ie to discover how we can assist you sell your home the right way.